Prior to volunteering on the build site or at the ReStore, please read our Safety Guidelines and fill out our Safety Waiver and bring it to the site.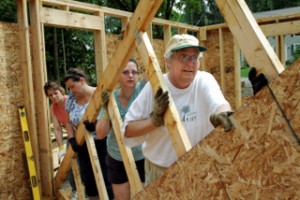 Volunteering on a build site is a fun, hands-on opportunity that allows you to work on a home alongside the future Habitat homeowners. Our build site volunteers do everything from framing and raising walls to hanging drywall and painting. Previous construction experience is not required.
A Team Build Day is a chance for members of your business, organization, church, or school to work together as a team.  Work exclusively with members of your group or invite friends, family or clients to join your build.  Participants will bond with each other, learn new skills, and have fun, all while providing financial and volunteer resources needed to build homes for families in need.  We will provide you with the tools and training so your group can see immediate results.
For more volunteering opportunities, find more information here.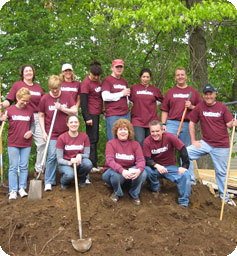 A Team Build Day gives Habitat and your company an opportunity to partner in a truly significant and meaningful way. Through this program, companies provide a financial donation ($1,500 for corporate group/team build days and a suggested $750-$1,000 donation for civic, church and school groups) and send a team of up to 12 volunteers to our work site to raise walls, swing hammers, hang drywall and more. By contributing this tax-deductible donation, your company helps share with us the cost of building materials and supervision, enabling us to continue to build homes and serve families. Companies are welcome to give more if they are able, and we thank you for keeping Habitat in mind while pursuing your charitable giving goals.
SCHEDULING
Build days are typically scheduled Wednesdays, Thursdays and Saturdays during active construction and generally run from 8:00am to 4:00pm.
You can check for available slots by calling the office 801-475-9821.
Scheduling for each project is done on a first-come basis; in order to involve as many groups as possible, each group will receive one build day per project; groups interested in further involvement, learn how to become a sponsor
You can come as an individual. Groups may recruit a minimum of 8 and maximum of 12 volunteers per shift to build
Groups may choose to cater a lunch or ask their participants to bring a brown-bag lunch.  We occasionally receive lunch donations.
Please keep in mind that build days may be canceled due to severe weather, or unforeseeable circumstances.  We make an effort to reschedule groups, if possible and appreciate your patience and flexibility!
---
UPCOMING HOME BUILDS
129 & 141 30th Street
Ogden UT 84401
Travis Parsons
Veteran Build