Corporation Team Build Days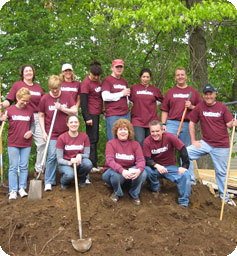 A Team Build Day gives Habitat and your company an opportunity to partner in a truly significant and meaningful way. Through this program, companies provide a financial donation ($1,500 for corporate group/team build days and a suggested $750-$1,000 donation for civic, church and school groups) and send a team of up to 12 volunteers to our work site to raise walls, swing hammers, hang drywall and more. By contributing this tax-deductible donation, your company helps share with us the cost of building materials and supervision, enabling us to continue to build homes and serve families. Companies are welcome to give more if they are able, and we thank you for keeping Habitat in mind while pursuing your charitable giving goals.
Women Build Days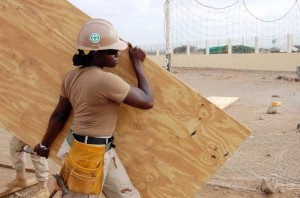 "Since 1991, Women Build volunteers from all walks of life have come together to build stronger, safer communities". (retrieved from habitat.org)
Women Build groups have the opportunity to learn how to build and construct a home on our Habitat lots. We will need your help along with other volunteers to build two new Habitat Homes in Ogden, UT. There is no experience needed, as our construction managers and professionals will work alongside you to help build. If you have a group of women that wish to make a difference and help with our ABWK projects or Housing projects, please contact us at info@habitatwd.org and sign up for our volunteer email list. 
The goal of Women build is to "empower women to help families build strength, stability, and independence". (retrieved from habitat.org)
Veteran Build Days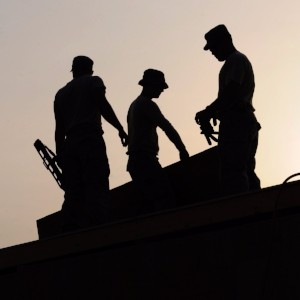 We are proud to support our veterans who have served our country. Currently, one of Habitat Families is Travis Parsons, a retired vet. Hill AirForce Base has been a dedicated partner with Habitat for Humanity of Weber and Davis Counties. If you are military personnel and wish to help a fellow veteran with building a Habitat Home, please contact Jennifer Winkles and schedule a group.