Home Build Sponsors include corporations both large and small, professional and community organizations, foundations, faith-based communities, and individuals who contribute leadership gifts of $2,500 or more to Habitat for Humanity of Weber and Davis Counties during one fiscal year.
Eight Reasons to Become a Home Build Sponsor:
Strengthen your community
Strong community ties are better for business
A chance to give back
Increase corporate awareness
Improve employee morale
Enhance your corporate brand
Be a positive influence on the future
High visibility for your organization
Your organization can partner with us by supporting special events such as groundbreakings or dedications, working alongside a partner family on a Group Build Day, or hosting an information session for your employees.
The benefits for each Home Build Sponsor level are as follows: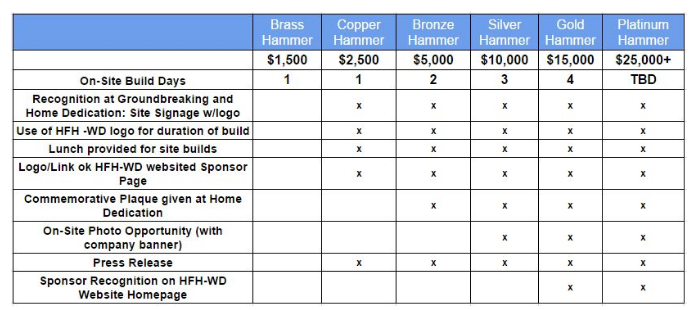 If you are interested in becoming a Home Build Sponsor, please contact our office:
(801) 475-9821 or info@habitatwd.org.
Land Donations
Finding affordable land to build on is one of our greatest challenges. By making a charitable donation of land, you will help us by eliminating what is often one of the most expensive aspects of building a home. This will allow us to build more homes for deserving families. Another option is to sell a building site to Habitat at a reduced price. A charitable contribution deduction may be available in this situation, so please check with your accountant.