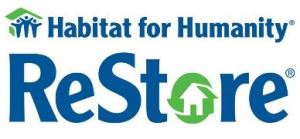 The Ogden Restore
A nonprofit home improvement thrift store and donation center that sells new and gently-used furniture, home accessories, building materials, and appliances to the public at a fraction of the retail price. Proceeds from the Ogden ReStore go towards home building efforts, Brush With Kindness programs, and other assistance provided to residents with needs in Weber and Davis Counties.
 
---
| STORE LOCATION | STORE HOURS | DROP-OFF DONATIONS | PICK-UPS |
| --- | --- | --- | --- |
| 3111 Wall Avenue | Tuesday thru Saturday | Tuesday thru Saturday | Call 801-393-3287 for appt. |
| Ogden UT 84401 | 10 am to 6 pm | 10 am to 5:30 pm | restoremanager@habitatwd.org |
---
---
Who Shops At The Ogden ReStore?
Anyone can shop at the Ogden ReStore! Whether you are looking for items to re-purpose and refurnish, a homeowner looking for discounted items, an interior designer looking for ways to spruce up the living space, or someone looking for supplies to improve the home, the Ogden ReStore is open to the public. The ReStore is here for you and your home improvement needs, renovation supplies, and DIY projects!
Shopping at Ogden ReStore
When you shop at the ReStore, you are helping low-income families have a decent place to live. Proceeds go back to Habitat for Humanity of Weber and Davis Counties so that we may focus on helping the community and low-income families with building and repairing their homes. 
The Ogden ReStore has inventory that always changes. We call it the 'Home Improvement Costco'. If you see it and like it, buy it today, because it may not be available the next day (or even the next hour). Our inventory is based upon donations from the community. We sell a variety of new and gently-used items such as building materials, appliances, furniture, lighting, and so much more!
Habitat for Humanity ReStore Blog
Check out the Habitat for Humanity International ReStore Blog.