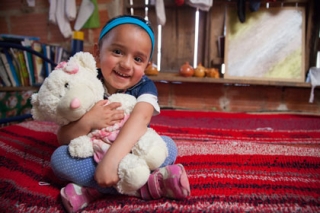 Ana Maria Aldana, 3, lives with her mother, Monica Aldana, and siblings in a house renovated by Habitat for Humanity Colombia.
ATLANTA (Nov. 17, 2015) — Working alongside people around the world in need of decent, affordable shelter, Habitat for Humanity improved housing in partnership with 1.8 million people in fiscal year 2015 as stated in its new annual report, "Together We Build." Since 1976, Habitat has helped 6.8 million people through housing opportunities and solutions, enabling them to achieve the strength, stability and independence they need to build brighter futures.
"Every day, we see firsthand the critical role decent housing plays in creating positive outcomes in people's lives and in communities," said Jonathan Reckford, CEO, Habitat for Humanity International. "I am thrilled at these numbers that represent individuals whose lives have been changed, and I'm grateful to our donors, volunteers and advocates who help make our work possible. Together, our efforts set the foundation for success, including better health, education and employment opportunities. As we celebrate the lives we have touched through adequate housing, we look forward to another year of creating safe and secure places for families to grow, be healthy and thrive."
The table below provides a snapshot of Habitat's efforts in fiscal year 2015 across 70 countries through direct housing solutions, including home construction, renovations and critical home repairs or increased access to improved shelter.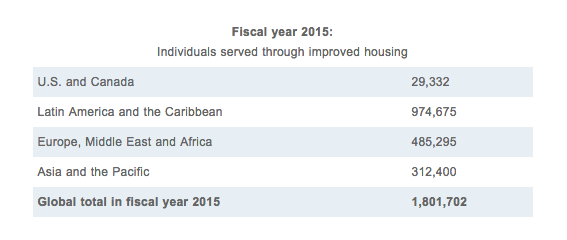 Habitat also provided training in construction and financial management as well as advocacy efforts that changed policies and systems to allow more access to shelter solutions. Through these services, an additional 4.8 million individuals now have the potential to improve their housing conditions.
Habitat's global mission was made possible thanks to its many generous donors and the hands and hearts of more than 2 million volunteers who annually give their time and talent. In addition to working on Habitat build sites, volunteers also served as local board members, in Habitat ReStores and through affordable housing advocacy efforts.
Since its founding nearly 40 years ago, Habitat has seen the tremendous impact that affordable housing has on helping people create better lives for themselves and their families. The fiscal year 2015 annual report highlights the many ways in which Habitat and its supporters worked alongside partner families, including home construction and repair solutions, disaster response efforts, revitalized communities, improved water and sanitation, and economic independence gained through homeownership.
To learn more or to view the fiscal year 2015 annual report, visit: www.habitat.org/multimedia/annual-report-2015
Housing Policies That Help Families
By Christopher Ptomey, Habitat for Humanity International's director of government relations
Last week in Phoenix, Arizona, President Obama announced several new housing policies, emphasizing in his speech how those policies will support responsible, hard-working families who are looking to purchase homes with mortgages they can afford.
As the leading nonprofit homeownership organization in the United States, we were encouraged to see these changes made. These policies have many implications for affordable housing — both homeownership and rental housing — in the United States.
As steps are taken in the months ahead to increase responsible lending, we encourage you to keep these points in mind: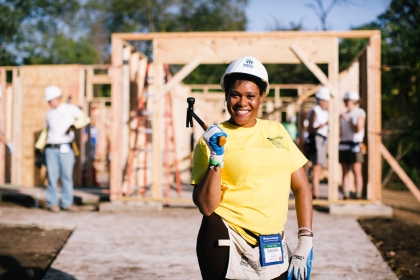 As Habitat homeowners demonstrate, the right sized loan given to a prepared first-time homeowner opens a door to a brighter future.
The Habitat for Humanity model lifts entire communities: The success of the Habitat ownership model depends not only on the ability of our partner families to repay their mortgages, but also on ongoing demand for homeownership in their neighborhoods. Our partner families tend to live in areas with a large percentage of lower-income and first-time homeowners and, as homeownership becomes a reality for some, it becomes more appealing for others.
A healthy housing market means a strong economy for all: Expanding homeownership opportunities builds a stronger economy for everyone. Robust housing markets mean higher property values and local tax revenues, more job opportunities and healthier communities.
The impact of decreasing federal resources: Both federal grant funding and loan support (e.g. Federal Housing Administration) have historically played a critical role in enabling first-time homeownership. Further, programs like theSelf-Help Homeownership Opportunity Program demonstrate the power of public-private partnerships as every dollar of a federal grant to Habitat leverages no less than $6 of private support for its work. Unfortunately, a sharp reduction in federal grant funding like SHOP for low-income households and increased FHA insurance costs and minimum down payment requirements have significantly reduced access to credit and ownership rates for low-income families.
The recent FHA change will largely impact middle-income households: Habitat greatly appreciates the administration's decrease in FHA minimum down payment requirements and reduction in FHA insurance premiums, both of which are expected to significantly increase access to mortgage credit, particularly for middle-income households, moving forward.
With right-sizing, our lower-income partner families consistently succeed: Habitat's nearly 1,500 U.S. affiliates equip more families to become successful low-income homeowners than any other nonprofit in the country. Even in the depths of the Great Recession, Habitat homeowners were able to fulfill their mortgage commitments, often avoiding default or foreclosure more frequently than their higher-income neighbors, thanks to their properly sized and structured Habitat mortgages.
We encourage the administration to expand its reach: We believe that the Obama administration can leverage even greater positive impact on the housing sector and home values by maintaining and growing its support for low-income homeownership, particularly through programs such as SHOP, HOME, USDA 502, National Housing Trust Fund, the Capital Magnet Fund and the New Markets Tax Credit.
We urge President Obama and the administration to continue supporting policies and programs enabling middle-income families to access home loans while also extending credit opportunities to qualified low-income families. As Habitat homeowners across the country demonstrate, the right sized loan given to a prepared first-time homeowner opens a door to a brighter future.
Learn more about Habitat's policy work in the United States and find out how you can get involved today.