Neighborhood Revitalization Initiative affiliates serve more families by responding to community aspirations with an expanded array of products, services and partnerships, with the mission of empowering residents to revive their neighborhoods and enhance the quality of life. This initiative is our A Brush With Kindness program, which help local low-income families in the community repair the exterior of their homes so that they are able to live in safe, decent homes for years to come.
"Habitat offers home repair services to homeowners so they can continue to live in safe, decent homes for years to come."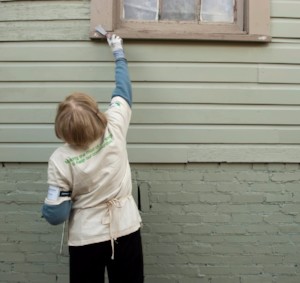 A Brush With Kindness
Are you looking for an affordable way to make needed repairs to your home? We may be able to help!!
Our "A Brush with Kindness" program uses volunteers to perform affordable exterior work on your home, such as:
Painting
Minor home repairs
Landscaping
Cleanup
Homeowner projects are selected based on:
Need
Ability to repay a no-interest loan, and
Willingness to partner with Habitat
For more information and applications, check out our page.